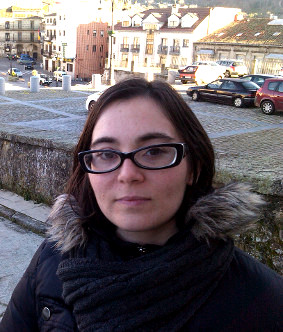 Gloria G. Curto, PhD
I am a researcher on developmental, stem cell and cancer biology with genomics/bioinformatics skills. My research interests include how cell fate decisions are related to the establisment of appropriate cellular identities, population ratios and tissue size. Also, how these molecular mechanisms might induce different pathologies when aberrant.
I focus my efforts on analyzing different aspects of these mechanisms in neural stem cells. In my PhD, I analyzed the implication of the transcription factor Pax6 in olfactory bulb adult neurogenesis (proliferation, differentiation, and survival of new cells) and in the generation of glial cells from adult olfactory bulb stem cells. During my first postdoc (Institut de Biologie de l'École Normale Supérieure, Paris) I identified molecular candidates participating in the differentiation of ependymal cells, multiciliated cells lining the brain ventricles.
In my last position as a senior postdoctoral researcher in the group of Vanessa Ribes I studied different aspects of the cell identity regulation exerced by Pax3 and Pax7 transcription factors. I analyzed how the differential transcriptional activity of these two transcription factors contribute to the generation of the different populations of spinal cord interneurons. I was also working on the initial steps of oncogenic transformation triggered by PAX3FOXO1A and PAX7FOXO1A in the generation of Rhabdomyosarcoma pediatric tumor. I was using a combination of classic developmental biology techniques, human cell lines, mouse embryonic stem cells differentiation protocols, high-throughput genomics, and bioinformatics approaches to reveal the transcriptional network behind the oncogenic activity of these two chimeric proteins.
Additionally, I've been committed to different research-related associations given my strong interest in science-related politics and scientific human resources. Thanks to these activities I gained experience in organization of meetings and coordination of workgroups.
career
Scientific Career
February 2015 to September 2017
September 2010-January 2014
2005-May 2010
2003-2005
December 2004
1998-2003
Research internships
October-November 2006
June-July 2005
June-November 2007
March 2007-August 2010
publications
Publications
Pax3- and Pax7-mediated Dbx1 regulation orchestrates the patterning of intermediate spinal interneurons. Gard C.*, Curto G.G.*, Frarma YE., Chollet E., Duval N., Auzié V., Auradé F., Vigier L., Relaix F., Pierani A., Causeret F., Ribes V. Developmental Biology (2017), 432(1):24-33.
*: Both authors contribute equally to this work.
Pubmed - HAL - DOI: 10.1016/j.ydbio.2017.06.014


Structures and properties of PAX linked regulatory networks architecting & pacing the emergence of neuronal diversity. Curto G.G., Gard C., Ribes V. Seminars in Cell and Developmental Biology (2015), 44: 75-86. Invited Review.
Pubmed - DOI: 10.1016/j.semcdb.2015.09.010


Pax6 is essential for the maintenance and multi-lineage differentiation of neural stem cells, and for neuronal incorporation into the adult olfactory bulb. Curto G.G., Nieto-Estévez V., Hurtado-Chong A., Valero J., Gómez C., Alonso J.R, Weruaga E., Vicario-Abejón C. Stem cells and Development (2014), 23(23):2813-30.
Pubmed - DOI: 10.1089/scd.2014.0058


Tubulin glycylases and glutamylases have distinct functions in stabilization and motility of ependymal cilia. Bosch Grau M., Gonzalez Curto G., Rocha C., Magiera M.M., Marques Sousa P., Giordano T., Spassky N., Janke C. The Journal of Cell Biology (2013), 202(3):441-51.
Pubmed - DOI: 10.1083/jcb.201305041


Changes in the serotonergic system and in brain-derived neurotrophic factor distribution in the main olfactory bulb of pcd mice before and after mitral cell loss. Gómez C., Curto G.G., Baltanás F.C., Valero J., O'Shea E., Colado M.I., Díaz D., Weruaga E., Alonso J.R. Neuroscience (2012), 201:20-33.
Pubmed - DOI: 10.1016/j.neuroscience.2011.11.025


Types of cholecystokinin-containing periglomerular cells in the mouse olfactory bulb. Baltanás F.C., Curto G.G., Gómez C., Díaz D., Murias A.R., Crespo C., Erdelyi F., Szabó G., Alonso J.R., Weruaga E. Journal of Neuroscience Research (2011), 89(1):35-43.
Pubmed - DOI: 10.1002/jnr.22521


Modelos animales en el estudio de los Trastornos del Espectro Autista. Gómez C., Díaz D., Airado Cerrato C., González Curto G., Murias A. R., Sánchez Recio J., Weruaga E., Alonso J.R. Book Chapter. 2010. Investigaciones sobre autismo en español: problemas y perspectivas, 239-248. Centro de Psicología Aplicada. ISBN 978-84-614-1786-5.


Chemical characterization of Pax6-immnoreactive periglomerular neurons in the mouse olfactory bulb. Baltanás F.C., Weruaga E., Murias A.R., Gómez C., Curto G.G., Alonso J.R. Cellular and Molecular Neurobiology (2009), 29:1081-1085.
Pubmed - DOI: 10.1007/s10571-009-9405-3


Modifications of the retina neuronal populations of the heterozygous mutant small eye mouse, the SeyDey. Curto G.G., Lara J.M., Parrilla M., Aijon A., Velasco A. Brain Research (2007), 1127:163-176.
Pubmed - DOI: 10.1016/j.brainres.2006.10.007


Sex differences in catechol contents in the olfactory bulb of control and unilaterally deprived rats. Gómez C., Briñón J.G., Valero J., Recio J.S., Murias A.R., Curto G.G., Orio L., Colado M.I., Alonso J.R. European Journal of Neuroscience (2007), 25:1517-1528.
Pubmed - DOI: 10.1111/j.1460-9568.2007.05407.x


Changes in cell migration and survival in the olfactory bulb of the pcd/pcd mouse. Valero J., Weruaga E., Murias A.R., Recio J.S., Curto G.G., Gómez C., Alonso J.R. Developmental Neurobiology (2007), 67:839-859.5.
Pubmed - DOI: 10.1002/dneu.20352

Please visit my Google Scholar Profile for further details.
skills
Technical skills
Histological analysis
Tissue sectioning (Vibratome, Cryostate, Parafine).
Immunohistochemistry and immunoflourescence (in toto, free floating, cell culture and slides).
In situ hybridization.
Semi thin and ultra thin sectioning for transmission electron microscopy (TEM).
Pre and post-embedding immunohistochemistry for TEM.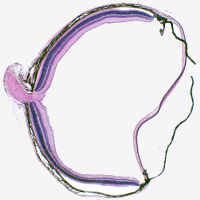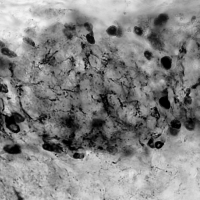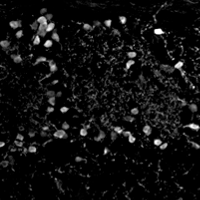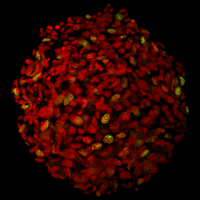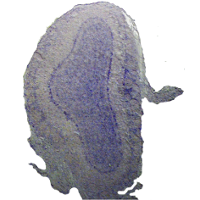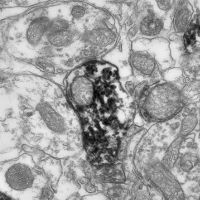 Up: cryostat section of a mouse retina stained with hematoxilin-eosin (left); Calbindin inmunohistochemistry, labeling olfactory bulb periglomerular interneurons (center); Calretinin inmunofluorescence, labeling olfactory bulb periglomerular interneurons (right). Down: staining of proliferative (green) and total (red) cells in an adult neural stem cells derived neurosphere (left); in situ hybridization staining of the olfactory bulb (center); Dopaminergic (dark precipitate) olfactory bulb periglomerular interneuron contacting a mitral cell (TEM) (right).
Cultures
Neurosphere assays, proliferation.
Clonal analysis to assess self-renewal and multipotency of stem cells.
Cell differentiation assays.
Primary cultures (astrocytes and ependymal cells).
Explants for the analysis of neuronal migration.
Brain slice organotypic cultures. Mouse embryonic stem cells culture.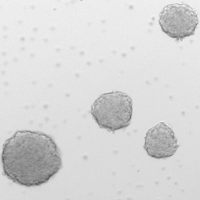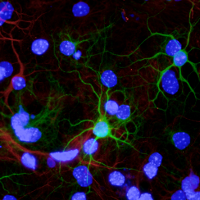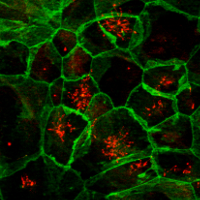 Neurospheres grown from adult olfactory bulb stem cells (left); Neurons (green and red) differentiated from adult olfactory bulb stem cells (center); Ependymal cells (cell junctions in green; multicilia in red) differentiated from postnatal neural stem cells (right).
Videomicroscopy
Cells in culture.
Explants.
Brain slices.
Electroporated neuroblasts (red) migrating out of a postnatal rostral migratory stream explant (left); Electroporated neuroblasts migrating through the rostral migratory stream towards the olfactory bulb (organotypic culture) (right).
Electroporation
In vivo electroporation of postnatal brain ventricular zone and embryonic chick neural tube.

Electroporated postnatal mice lateral ventricular wall dissection, bright field (left); Electroporated postnatal mice lateral ventricular wall dissection, electroporated cells in red (right).
Molecular biology and Biochemistry
RNA and DNA isolation.
PCR and RT-PCR.
Western Blot.
Immunoprecipitation.
Cloning.

Big equipment
Laser confocal microscope and spinning disk.
Transmission electron microscope.
Experimental models
Organization and maintenance of mice colonies.
Related trainings:
B level certificate: Experimental models project designer (according to the French law; July, 2015).
Certificate of qualified staff to work with experimental models (according to the Spanish law; July, 2006).
Download CV
Bioinformatics, statistics, and coding
Programming languages/computer skills

R, Bash, Python.



Bioinformatics

RNA-seq. Bioinformatics analysis of differentially expressed genes/transcripts.
ATACseq and ChIP-seq. Peak calling, peak annotation, motif analysis.

Related trainings:


CSAMA 2016. Statistical Data Analysis for Genome-Scale Biology. The course consisted of both theoretical lessons and practical hands-on exercises based on the R / Bioconductor environment. One week intensive summer school. Brixen, Italy. July, 2016 CSAMA 2016 Program. CSAMA 2016 Lecturers
Certificate of attendance.
Bioinformatics Methods II. It covered motif searching, protein-protein interactions, structural bioinformatics, gene expression data analysis, and cis-element predictions. Coursera online course. University of Toronto. March-April, 2014.
Statement of accomplishment with distinction.
Bioinformatics. Level II. Initiation to the bioinformatics treatment of RNA-seq generated data. INSERM, DR - Kremlin Bicêtre - Paris XI. 13-17 May 2013.
Bioinformatics. Level I. Analysis of molecular sequences. INSERM, DR - Kremlin Bicêtre - Paris XI. 18-22 February 2013.




Data analysis, statistical inference, and R programming

Related trainings:
Download CV
Organizative skills
Leadership/Management skills
2011 to 2013 I was an active member of the directive team of the students and postdocs association of the Institut de Biologie de l'École Normale Supérieure (SPIBens).
As a part of my activity, I participated in the organization of the Young Researchers in Life Science meeting 2012, in Paris.

2004 to 2011 I was an active member of the spanish Young Researchers Federation (Federacion de Jovenes Investigadores; FJI).
2008 to 2009 I was part of the association board, the last 6 months as vice-president. I participated in the planning and coordination of the work of the association and represented the association in different events and negotiations related to science politics.
2005 to 2007 I was in charge of a national work group dedicated to the preparation of informative material on the activities of the association and science policy, promotional objects and the organization of informative/formative and protest events.

Conference organization
Member of the organizative committee:
Young Researchers in Life Science meeting 2012 (http://yrls.fr/), in Paris. The YRLS meeting is organized once a year by the young researchers associations of the five leading life science research institutes of Paris. Apart from diverse general organization tasks, I participated in the selection of participants for oral presentations and as a poster judge for the developmental and cell biology sections.
Chairman:
VII Young Researchers meeting ("Scientific Politics in Spain: Needs and Proposals"). Barcelona (Spain) 25-27 February 2009.
Coordinator of the scientific program:
VI Young Researchers meeting ("Research is future"). Granada (Spain) 13-15 February 2008.
Download CV
Communication skills
Scientific publications

I have published 10 papers in peer reviewed journals, three of them as first author and three as second author. And two more in preparation.
I have 5 contributions as first author in oral presentations in meetings and 4 poster contributions.
I have participated in lab meetings, seminars and educational activities in english, french and spanish in a regular basis, so I'm used to present my work to different audiences.
Teaching
Qualification aux fonctions de maître de conferences Cell Biology and Neuroscience sections. France, 2016.
Practical undergraduate teaching in different subjects of Cell Biology, Neurobiology and Histology areas (University of Salamanca). 210 hours in the areas of Cell biology, Neurobiology and Histology. 2006-2008
Pedagogic Aptitude Diploma. University of Salamanca, Spain. Diploma needed to become a high school teacher in Spain. 2004
Popular science activities
Educational activities at the exhibition "Neurosciences in the XXI century". Science week. Salamanca, 2008
Popular science awards:
Download CV
Funding and awards
La ligue contre le cancer postdoctoral fellowship. February 2011-January 2014. Cilia Biology and Neurogenesis Team. Institut de Biologie de l'Ecole Normale Supérieure (IBENS). Paris (France). INSERM U1024.
Doctoral Award "Premio Extraordinario de Doctorado" by University of Salamanca (Spain). 2010
Research internship grant. Supported by "Ministerio de Educación y Ciencia", Spain. 2007. Dpt. Cancer Biology and Genetics. Memorial Sloan Kettering Cancer Center, New York (USA). 2007, 5 months.
Research internship grant. Supported by "Ministerio de Educación y Ciencia", Spain. 2005. Dpto. Biología Celular y Parasitología. University of Valencia (Spain).
Predoctoral fellowship. Supported by "Ministerio de Educación y Ciencia, FPI program" Spanish Government. 2004-2008. Institute of Neuroscience of Castilla y León. University of Salamanca. Salamanca (Spain).
Undergraduate collaboration fellowship. Supported by "Ministerio de Educación, Cultura y Deporte" Spanish Government. 2002-2003. Institute of Neuroscience of Castilla y León, Spain.
Popular science awards
Download CV
contact
Contact info
Name: Gloria González Curto
E-mail: gloria (at) gloriagcurto -dot- info